Introduction of large/medium banquet halls
With the best services and facilities in all of Changwon, Hotel International hosts various small and medium-sized events such as reunions, seminars, birthday parties, and regular general meetings.
Introduction
It is a large banquet hall that can accommodate 1,000 receptions and 550 banquets at the same time and is equipped with the latest sound, lighting, and full HD ultra-high-definition large screen facilities. Various large-scale events such as international conferences, dinner shows, seminars, fashion shows, workshops, wedding receptions, and inauguration ceremonies can be held.
Grand Ballroom
홀이름
규모
Capacity (persons)
py
넓이(㎡)
size(m)
Theater/Seminar Style
Banquet
Seminar Style
Grand Ballroom
230
759
33*23*7
1,000
400~500
400
Robby
74
245
중앙 스크린 사이즈
6m * 5m
Grand Ballroom full HD ultra-high-definition LED screen
Full HD ultra-high-definition LED screen
위치
무대 좌측ㆍ우측
Size
3.5m * 4m
Banquet Info
연회장 위치
New Building 5F
규모
Grand Ballroom Hall : 230평(759m² / 23m*33m*7m)
Robby : 74평(245m²)
Capacity
Banquet/Seminar : 550 people, Theater Style/Reception : 1000 people
Booking and Contacting
TEL : +82-55-264-0044
Banquet Reservation
Grand Ballroom 도면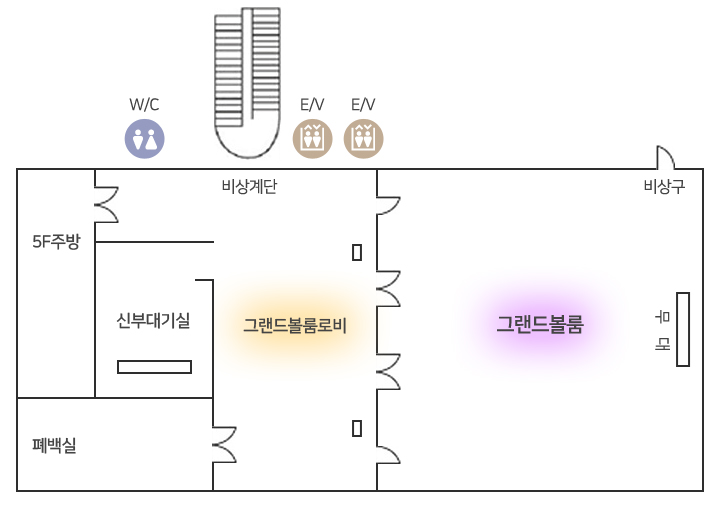 구비장비
초고화질 LED 스크린
자동스크린
전자지시봉
엠프, 스피커
마이크